About
If you by any chance go to this URL CamStreams.tv, you will open a very interesting page. This is one of the sexiest sides of the internet, and definitely a cool xxx site where you can take delight in fap-worthy content. Of course, expect a lot of naked babes who are wild, lusty and libidinous, and whose life purpose is to make you explore all over your place. From all the steamy fapping, of course. These ladies are naughty and charismatic, perfect for this job. And it takes a lot to become a cam girl, did you know it? You need the looks, the characteristics, the proper equipment… And luck, even!
But what is this site about anyway? These are actually recorded live streams. Well, they were live streams, live sex performances where hotties stripped and toyed their twats, things like that. However, now you have recorded versions on Camstreams, where you can watch videos of their performances. It's actually very cool because we all know cam sites are pay sites. We have to open our wallet and pay up to see all the dirt. But not here! You will see all these shows that were live for free! It's even better than on the original sites, no? At least you don't share your models, you just watch them and no one intervenes.
Where to start? A free world of Cam Streams!
The site is enticing because you get to see the shows of ravishing girls, not for a single dime. No payments, no dirty cents, no tips and shit like that, just your eyes on the screen, and the site gives you the videos on the house! These are some of the most attractive babes on the internet, and you can watch their striptease shows and solo sessions with toys and fingers.
The site looks decent, it's not gaudy or anything. There are no ostentatious details, video montage banners and kitsch buttons. It's just a black background with a few words that help you find what you need at that moment. You can choose to see their latest shows, top rated videos, or most viewed stuff. They also have a link to categories and models, but you will also find a community button. The top of the page is where you will see upload, sign up and log in buttons. And that's it. It's very simple and minimalistic, with nothing that will distract you from the babes.
Of course, the bottom of the page is where you have some boring buttons, like support, terms and invite a friend. Well, maybe this whole invitation doesn't sound that boring. What if you want to invite your GF to watch these shows with you? It can turn on both of you and you can be playful together. But if your girl is jealous, it's better to share something like this with someone else, like your best friend, who will probably appreciate it. We live in 2021, it's OK to send these kinds of videos to friends! Even relatives, in some cases. No one should judge you for that.
Latest and top rated videos with luscious bimbos
Let's start with the latest videos, shall we? Well, not really start, but let's mention them before the other tabs. This is the first tab here on Camstreams, and if you want to see all the most recent dirt on the internet, this is your place! Here you will see naked chicks who either get rid of their clothes fast or slowly, and they start toying and playing with their succulent little pink pussy lips. It's delicious, no?
And these are the models from various cam sites. Chaturbate, My Free Cams, Many Vids, Cam Soda… It's interesting how this site doesn't really have typical categories, like big tits and BJs. Instead of these items, you will find the names of other sex sites, like Cam Soda and more. But more words on that later! We still have things to discuss here, and we should talk about the sex bombs in the videos. These are all recorded streams, where babes performed live, so you will see how it looked like when it was being filmed. These are the most popular cam girls and the sexiest models, their live shows for the audience.
Now, top rated tab is different because here you will not see only the latest videos, but also the ones that are the most popular. Maybe not really the most popular, but definitely the ones with the best ratings, which means people loves these shows! For some reason, these chicks were the hottest, or the shows were breathtaking, so the users of the sites gave them the best marks. These are 100% rated shows, or something very close. Are these shows kinkier? They are! Babes do the dirtiest things here. It's perfect for everyone who wants to get hard fast because these bimbos mean business. They are tasty and insanely sexy, and they make all the right moves because they know what we like.
Most viewed shows of the most gorgeous models
When you see this most viewed tab on a sex site, you always expect the best things here, right? And that is the case with these shows here, they really are the best, and therefore, they do have the most views. But what makes them different and special? Nothing really, these are mostly slutty models who either play with themselves or they hump throbbing members with a lot of vigor. Nothing here is too distinctive and out of this world, but for some reason, people like these shows the most.
For example, you will read titles here that tell you these are sex tapes. Sex tapes of amateurs, of models, or bimbos and dick suckers who like it dirty and raw… These are the shows of the most popular models, or just really steamy homemade tapes where couples fuck and film it. Maybe you won't know all the girls here, but this doesn't mean they are less hot compared to famous sluts.
You have a lot of OnlyFans videos here, and this platform has really become popular these days. For some reason, these videos have caught on and there are so many slutty chicks from various countries using this app to post their nudes and slutty content. But there will be more words on OnlyFans later. You also have videos from sites like Chaturbate and ManyVids, and even some PornHub stuff that us must-see. It's a page with a lot of sultry scenes that you don't want to miss out on, and if you visit the site, be sure to spend time on this page.
The models – a lavish part of the site with hotties
If you want to meet the ladies from the shows and get to know them better, you have this page to check out – the models. It's pretty simple and minimalistic, when you open a model you like, you will see her page. Here you may or may not read her info. Many babes don't have info at all and all it says is N/A. The site's admins don't know where these models come from, and you don't have any other detail that is known. It's a shame because it would be cool to know more about your favorite sluts!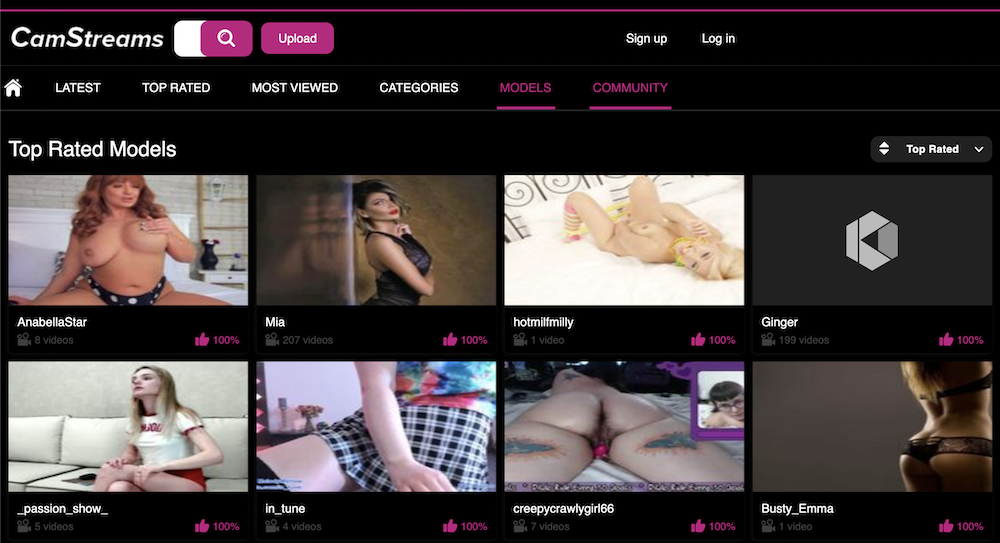 But not knowing the stats is not the worst. You don't even know the names of the models, and you will see just their usernames, or something that looks like a username. It says patrisiyamotta, and not Patrisiya Motta… If you open this model, she has 5 videos on this site at the moment. This will probably change, but as of this writing, there are only 5 of them. It looks like this model is a lesbian, or she only does lesbian shows, which is cool, but it would be cooler if the page were more diverse.
You also have models like Caylin, Elene Beauty, Elisa Lee and more. We don't now where these hotties appear, but maybe they can be seen on multiple cam sites. Many models work for more companies, even though this is not always the case. Here you have unknown girls, not famous bimbos and MILFs like Lana Rhoades, Adriana Chechick, AJ Applegate, Abella Danger, Mia Malkova… It would be cool to see the shows of these babes, though. These are the most searched for names in the biz. These sluts are favorite porn divas, liked by the majority of fappers the most. Why is that? Maybe because they are the best!
But this page is diverse in light of one thing – you have MILFs and younger cuties. Maybe these are teens and maybe they just look really young. You have tanned babes, or Latinas, we can't tell because we don't know these names. You have busty chicks and small-titted, or flat-chested hotties. But they all do one thing – they go wild without their clothes! It's a sight for the sore eyes! You should check out this page if you have time, even though it's not as thrilling as categories and most viewed shows.
The community here is very small, but it looks like they are active. Some users have been here recently, some were online 3 hours ago, 4 hours ago, which means they probably come here often or once in a while. You will see that the admin was here several months ago, but this doesn't have to be true. The community page is for the comments and remarks of site's users. They appreciate the models this way, they talk about their favorite girls and videos. You can always comment on what you like because the site has these community features.
The luxury of categories – sites where you can find delicious porn
It has already been mentioned here that this site has unique categories. Unique in what way, exactly? They don't have what most sites do, they have sites where you can find your favorite smut. You will see Chaturbate, Cam Soda, PornHub… All the sites are sex sites and you have delicious smutty content there, especially on these cam sites with live sex shows. Of course, all the sites here are great and high-quality, especially sites like Cam Soda and PornHub, who are one of the most popular xxx platforms in the world. Maybe some sites are newer and less popular, but only because they still haven't had time to build a library as impressive as on sites like PornHub.
You will see only 12 categories here, but how many of them do you even need? You have Only Fans, Instagram, SnapChat here as well, and these are apps with so many luscious girls who sometimes post their nudes and smutty clips. Snapchat is particularly famous for smutty content, with so many slutty models and amateurs who post dirty stuff there for their followers.
And they also have this HD category, which is not really a site, here you will just find HD videos. If you check out all the categories, you will see that all pages have HD videos, so we don't know why this category is placed there, separately. These are HD but free videos, shows you wouldn't be able to see if you didn't pay. You have the most popular cam girls and their tempting shows, where they do all sorts of sexy things for the views. There is a reason why some models are hotter, they are just ready to go further and get even nastier.
OnlyFans, Insta, SnapChat
OnlyFans is an English site, based in London. It's a content subscription site, which is very popular in 2021. What does this even mean? Babes or dudes post their photos and videos, and people can watch them and see them if they pay. You have monthly subscriptions and you can be a hardcore fan by paying for this content every month. When you pay, the users of the site earn money. Those with profiles, who upload their content for you get paid for their services. Basically, you tip the babes to make them get naked or something like that.
Instagram is definitely an interesting app because people can get rich posting certain content there. You have all these influencers and icons, followed by many. This is another great way to earn money, but to us it is important because you will find many nudes and sex clips there. CamStreams finds these nudes and xxx videos and they upload them on this site. That is why you will see some pornstars and amateurs from Insta who have dirty photos and clips on their profiles. It's a fast and easy way to become famous, no matter if you are a pornstar or just a fashion victim.
And we have SnapChat, where you know that a lot of babes post their nudes and naked videos. They are either alone, or they fuck someone, but they are the stars of the videos. All these three apps are cool because they also allow porn in a way, erotica and a lot of nudity or just body revealing. Here you have these three apps and some live sex sites, and all together combined like this, they actually give us a lot of great content.
PornHub and cam sites
You all know PornHub, this site doesn't need any special introduction because it is the most visited site on the net in light of porn content. You know that it has many categories and much diversity. You have white girls, ebony girls, Latinas, Asian girls and you have pornstars and amateurs. This is also the case with this page here, you have so many things to see and you won't run out of ideas and content. Some of these pages have more videos, but they are all rich and abundant, how we like it.
And of course, cam sites were saved for the end. You have the most cam sites here, most categories are the sites where you can find live sex shows. These are shows with only professionals, so the girls know what they are doing and due to that they have a lot of followers and fans. Here everything is free and you don't need to rely on the tipping system, you just open shows and enjoy them. You will see amazing things here, and you can watch for as long as you want, without limits. It's one of those sites that are always available for as much as you need them.
To finish this review, we will point out that these videos are not exclusive and original. The site takes from other sites, and these are mostly cam sites. Yes, you also have this HD and VIP category, and these are not really sites, just certain videos of the best quality, that actually come from various apps and sites. The site doesn't offer anything authentic, but it's good if you fantasize about live shows you can't watch unless you pay and tip the models.