About
Pinteresty features on a porn site? Tell us more! Do you want to find a site with high-quality content, lack of ads and a pretty personalized experience? You can – it is called Sex! That's it, just Sex. Nothing about this site is complicated, not even the name, and they are actually so lucky to have occupied this domain – Sex.com. You know how many visits they have just because of this simple domain name? this number is so big you can't even count to it! So, this is a very cool and promising name for a smut site, no? But is this site good? Let's see!
Of course, the site isn't perfect. What site is perfect, anyway? They try hard, so we see that many smut sites today have all these great features, sometimes there are no ads at all, sometimes we find few ads… Some sites are teeming with ads, others try hard to not let them bother us. And the content… What porn site doesn't have great content? Not all videos are produced by studios whose production values are high, and sometimes we just have amateur, homemade porn. But this is also pretty good, especially if you want something less staged, scripted and more genuine. Will you like Sex.com? Keep reading to decide!
Sex.com was special before it even had any content!
So, Sex.com… This is probably the best name of all the names of all porn sites out there. Many competed for this name, this domain was quite sought-after, and the reason is that it is so simple and just right. After all, that is all porn is about – sex! Lots and lots of sex! Cock sucking, pussy fucking, ass wrecking, throat banging… Just sex and even more sex! This is not even exaggeration! The site had so many biggies who wanted this domain, so much competition, legal battles, struggle for power… Someone even wrote a book about this domain! The book was published in 2007, and a journalist Kieren MyCarthy talked about this topic.
But you probably don't need all the details, no? Yes, this was pretty controversial many years ago, there is a whole history behind it, this is something we can talk about for hours! But, honestly, there is something that needs to be said – if you are interested in this story, just buy the book! Ok? That is probably more detailed than you can read here. But yes, the domain of this site was very fascinating to many and now it's cool when you can learn more about it.
So, what happened next? Do you know who Gary Kremen is? He is the founder of the site called Match.com, and he registered this domain with Network Solutions back in October 18th of 1995. He registered it, but didn't use it because he wanted to focus on his creation called Match. Because the domain wasn't used, they transferred it to Stephen Cohen, but without Kremen's approval and permission. This was something illegal, the right word is fraud. All of that led to creating a site that was advertisement-heavy, so the site got 25 million clicks every day! Do you know see what a powerful domain this is? The right keywords, some good on-site SEO, a little bit of link building and right advertisement and you will have a site that has a phenomenal position on Google!
Sex.com – perfect when you type smutty keywords on Google
So, when you are horny, what is the first thing you type in your Google search box? You probably type sex, or maybe fucking, slutty chicks, blowjobs… But you probably use sex the most, and there is no way you don't find Sex.com when you type this lexeme into the search box.
So, because of everything that happened, Kremen wanted revenge! He took the folks to court. This actually went on for 5 years. Finally, Kremen won and he got his domain back. The dude even received almost 70 million dollars in fines. But he didn't want to stop there. He wanted more, so he continued filing appeals. This was very strenuous and it lasted for a long period of time, especially because Kremen doesn't really seem like a forgiving type who will let you steal his things!
What happened next was that Cohen was arrested. They arrested him in Tijuana, and that was because he violated immigration many times. They took him to the US authorities, and when that happened, he was in custody for a year. Nothing too serious, but still… But did you know that he never paid these almost 70 million bucks? He claims he doesn't possess that amount of money, and he lives in poverty. Kremen was very persistent, even though he probably sees that he will never get what he wants from Cohen. What do you think about that? Will that money go where it should go?
But did Cohen really not have the money, or did he hide it? There are allegations that 7 people helped him hide it, and 12 companies. They were all complicit, and certain individuals are suspected. For example, his mother, brother, ex-wife, daughter, former lawyer… The court is still trying to find out what happened and the case against the brother is ongoing. Maybe something will happen in the future that will lead the court to the money, but maybe these are just assumptions. There is no proof, so they can't really do much.
Selling the domain after years of battling
So, what do you think about this story? Did you know it? Maybe if you are a porn addict and you move in these circles, you have heard of it before, especially if you had a chance to visit Sex.com and similar sites. But maybe you have only heard a part of the story, and now you know more details. Still, if you want to read the book, that will give you even more details, because here everything is included! Is there something more exciting in the porniverse than seeing two people fight over a domain? There should be a movie about this process!
But here comes the shocking part – after all that arduous battles in the court, after everything that happened, Kremen actually decided to sell sex-com. He sold it in 2006. The highest price he managed to auction was 14 million dollars, which is not bad for a porn site. In fact, this was the highest-priced domain ever! But since Kremen had so many hefty legal bills, he needed this money for that. It's sad when you think about, after everything that happened with this whole legal hodgepodge. But every cloud has a silver lining, so don't feel sorry for the guy.
What happened with the site, anyway? It actually became what it is today in 2012, and when they launched it 9 years ago, they promised us The Pinterest of Porn! That's right! When you go to sex.com, you will see many nudes of hotties, looking like these are Pinterest posts. You know how Pinterest looks like? It has pins, and these pins are pictures where you see various things – food, furniture, nature, cars, or some language learning tips and lessons, fashion, hobbies – everything we do in life! And now you know that there is also Pinterest for naked girls! So, pornterest!
Half porn site, half imaging site
So, now you know what to expect. If you go to this website, you will see that the organization of nudes there is exactly like you can see it on Pinterest. But this is more like Pinterest for straight men and lesbians, or bisexual people, or gays who are curious… Why? because you mostly have naked women here, not naked couples or men. The archive is truly massive, though. You can browse it and pin it, and if you have something you like the most, this can be saved for later so you can view it at any time you want. This is a very convenient tool because there are so many images, you simply can't find what you like later if you don't save it somehow. You can create multiple pinboards as well, and here you can have the best porn content. The organization can be however you like it. This is the beauty of this site – you can be creative here and play with the navigation tools. It won't take long for you to learn what to do. Everything is pretty simple. Have you ever been to Pinterest? You probably know how it works!
What's really interesting here is that you can also follow other users. You know, there are many people who like the same things you do, so you may find someone whose pins you like the most! It's a plethora of possibilities here! You can follow someone, someone can follow you, and everyone is pleased! With real Pinterest, you can meet like-minded people by following their recipes, their great-looking photos of nature and hobbies, but here you can connect with those who like same body types, certain types of girls, certain sex acts… It's all about smutty content!
So, what else can you do? The site has great community features! First of all, you can re-pin what you like and just copy someone else's content on your profile, but you can also comment on images, like what you see… So, when you think about it, this is half porn site, but also half social media site, one of those that include images. All of this makes the site unique. Many porn sites today just focus on xxx videos, so it's a breath a fresh air when you find a site that has more options to play with.
Everything about the design and interface
So, what do you need to know about the layout of this site with a simple name? You already know the most important thing – it looks like Pinterest, so it is almost identical, except that here you don't have images of lifestyle and life-related issues, you have nudes and sexy images of babes posing in tempting lingerie or something similar. The site has a white background and you will see loads of thumbnails you can just enjoy by scrolling down as long as you want to. This is an endless page where you just need to scroll down, and the more you do so, the more images you will dig out.

There are some differences compared to Pinterest, though. For example, Sex.com doesn't have that infinite scrolling option like Pinterest has. Here you have pages, and the site has a menu bar that should help you navigate the content, This is different when we focus on comparing the site to Pinterest because here you don't have the same navigation tools, but maybe this is a better version because maybe it's better to have pages and a menu bar to help you explore the place.
So, you have pictures you will most definitely enjoy here, but you also have many gifs, which are very inviting – babes make sexy poses naked, they spread their legs, touch themselves, send kisses, have fun stripping sensually, and all that jazz. Some people might find gifs distracting, though because they prefer the stills of slutty, nude babes. You even have the option to remove the giffy content and focus only on the stills. There is a button above your feed, so you can just click on it and choose what you like. Sex.com is a site with pictures of high quality.
Handy navigation tools and other sites
Now, the menu bar… This little tool is very handy if you want to jump anywhere on the site. For example, you just want videos… If you hover your mouse over this button (you have 'videos' tab), you will find a dropdown menu and here you can select a category you like. There are many categories here. Do you want to see what's popular that week? That month? That year? All time? You also have latest pins to check out and take delight in. Does that sound enticing?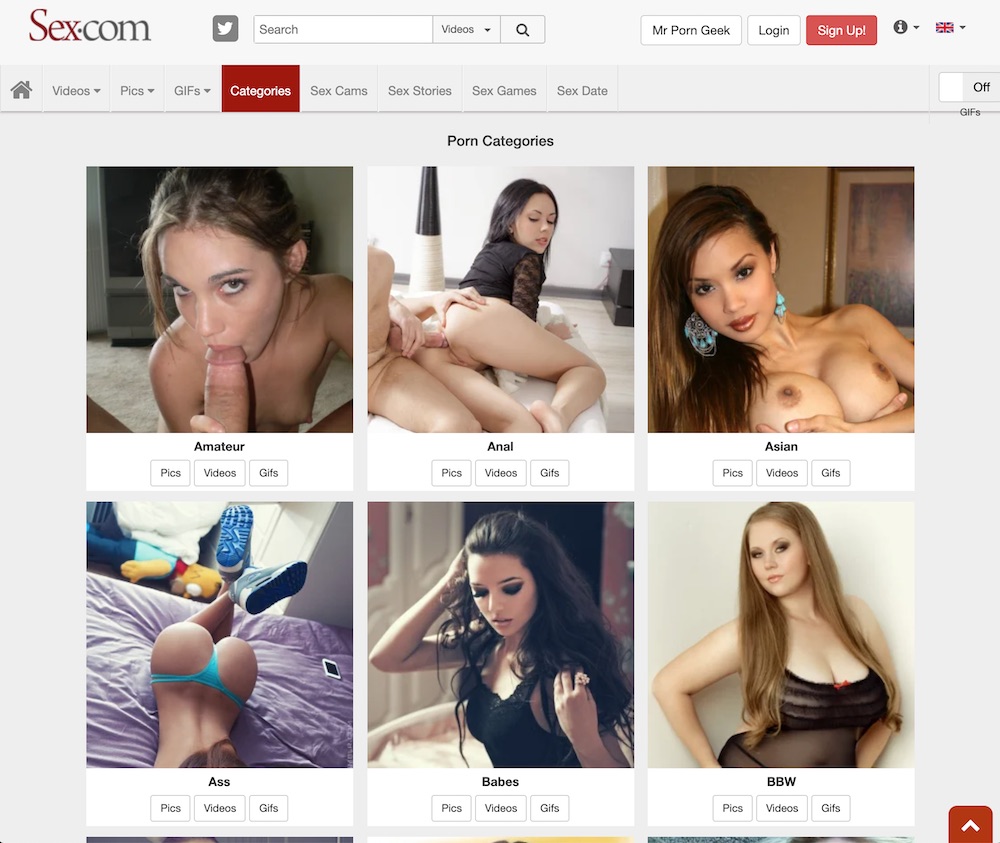 You also have the option to simply browse by categories, and here you can choose sex stories, sex games, cams… All of these things sound tempting! If you click on this 'games' button, you will actually go to Adultgamepass, so you won't stay on Sex.com, you will go to a different site. This is nothing new. Most porn sites work like that, they have friends and many times you will find different sites on one site. For those who like stories, you will be brought to Literotica. This is probably the most famous site where people can enjoy sex stories. And 'cams' is a third party where you will need to use your adblocker.
But even when you click on these buttons and you go to different sites, what's really good about Sex-com is that you don't have any ads! You won't see them on Sex, you won't see them when you open sites for porn games, stories and cams, there are nowhere to be spotted! This is pretty cool because we all like that ad-free experience. This is a free site, and it doesn't even have ads. That is a rarety!
Anyone who wants to like, comment, re-pin the content should also know that you can click on an image, and you will go to the original source of that picture. So, things you see on Sex are not exclusive, these are not photos and videos you will only find here. In fact, they were taken from other sites, but this is nothing surprising. Sex just shares good content with people who like to fap to nude ladies, but it can also help you stumble upon some exceptional porn sites. You will even find a list of related content below. There will always be so much you will wish to see!
The verdict
And what's really cool about Sex is that here you can upload whatever you want. If there is something you feel like sharing with the world, you have the freedom to post it online, and this can be your sexy pic, or someone else's. Of course, you need to have that person's permission to upload what you want. Some people upload pics of them fucking their partners. And why not? People like erotica, especially amateur content that is genuine. As long as there are those who want to upload sexy stuff, there will always be those who will want to see it! And once you do upload something, wait to see how many likes and comments you will get! That part is pretty exciting.
One thing here is glaringly missing, though. If you want to message your fellow fappers, you can't. There is no option to message other users. You can do everything else, but no messages! If they added this little feature, the site would be pure perfection! This is just a suggestion. Hopefully, you liked the review! Do you feel like checking out the site?